The Square of Náměstí Svobody
Facing the New Town Hall, a small street goes down to the old town's biggest square, Náměstí Svobody, which is broken up by tram lines. Brno's major street, Masarykova, links this square to the train station. When compared to many major Czech squares, Náměstí Svobody is unremarkable, and even its' plague column's a static design. From the square's top, Jánská goes to the church of Minorite, conceived by the Grim, who used vigorous statues to mark its' wide facade. The richly decorated inside is enlivened by an organ in baroque style adorned with putti playable instruments. Across from this church, along the Minoritská, some great secession homes and stores have been newly renovated and glisten with gold leaves. At the opposite side of Jánská, a glass-panelled, old department shop named Centrum is found, constructed in 1928 by the shoe entrepreneur Tomáš Baťa.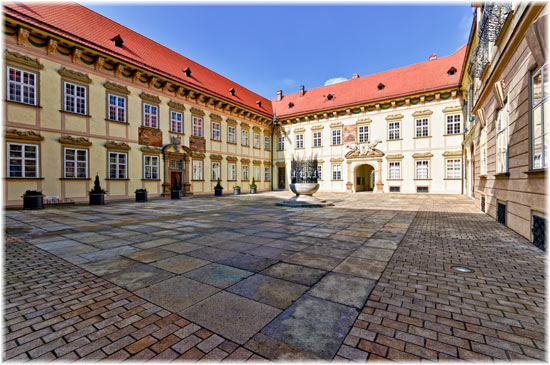 Go on from Centrum to the square of Malinovského, and a nineteenth-century Mahen Theater is there on the left-hand side.
It's got a grand look, with a splendid drive that sweeps up to the porch's entrance. The inside is delectable, with stylish staircases, crystal chandeliers, strolling salons for intervals and, naturally, a terraced auditorium that's gilded heavily, lavish yet personal. This was the 1st theatre in 1882 in Europe to utilize electrical lights.
A different road going away from Svobody-Rašinova brings you to St Jacob's large Gothic Church, the parish church of Brno, featuring its' high belfry. Its' aisles are supported by very slender piers which don't appear able to hold the weight of this huge structure, even when assisted by a network of precise rib vaults. Such Gothic style is a breath of fresh air after lots of baroque style churches in other parts of Brno. Go an extra block across Rašinova to St Thomas' Church, structure renown for its' 3 tier pulpit. Joined onto St. Thomas Church is the eighteenth-century Governor Palace, crafted by the Grimms. From 1992, it's been home to part of the holdings of the Moravian Gallery. This Gothic hoard's got a plethora of paintings and wooden carvings, like a fifteenth-century panel showing the graphic snake-abundant portrait of the head of Medusa by St Osvald Ruben. There are also some great instances of eighteenth-century pictures by Johann Lucas Kracher, Daniel Gran, Angelica Kauffmann, Franz Anton Maulbertsch and nineteenth-century pictures by Hans Makart and Friedrich Amerling. Near to this palace, on Česká's corner, you arrive at the Avion Hotel, designed by Bohuslav Fuchs, who was Bmo's top architect in the twentieth century.